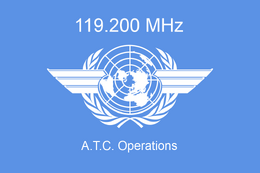 The
119.200 MHz Group
is a Second Life group dedicated to the role-play of air traffic control (ATC). The group covers the
Blake Sea
,
Satori
,
Nautilus
,
Corsica
, and
Gaeta V
continents and uses dedicated
ATC bots
to communicate with pilots and simulate real-world ATC chatter.
Pilots can search for and join the 119.200 MHz Group in-world, like any other Second Life group. However, to communicate over its "group chat" pilots must first contact one of the ATM officers (listed in the group) and be granted the "pilot" role. Once authorized, pilots can then interact with the various ATC towers (manned by bots) in-world; submitting flight plans and requesting access to various ATC services. See the ATC bot article for full details on how to interact with ATC bots.
References
Explaining Flight Plans & ATC comms Feb/2014, 119.200 ATC Crew
See more
Ad blocker interference detected!
Wikia is a free-to-use site that makes money from advertising. We have a modified experience for viewers using ad blockers

Wikia is not accessible if you've made further modifications. Remove the custom ad blocker rule(s) and the page will load as expected.