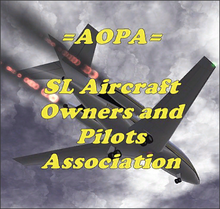 Aircraft Owners and Pilots Association (AOPA) is created by Quinn Avery in late 2015, and in words of your creator: "This is the Main Distribution Channel for a set of "Emergency Airport Data Cards" for all Buildable/Rezzable Airports, Sandboxes and Islands in Second Life, that are Airplane/Floatplane Friendly on about 18 Continents - Many are Not Found on the SL Radar (Which we also 100% support) - Comments on "Locations" and/or Criticisms about "Errors And Omissions" are Most Welcome - This is a Free Service to Further Promote SL Aviation."
Ad blocker interference detected!
Wikia is a free-to-use site that makes money from advertising. We have a modified experience for viewers using ad blockers

Wikia is not accessible if you've made further modifications. Remove the custom ad blocker rule(s) and the page will load as expected.