Ad blocker interference detected!
Wikia is a free-to-use site that makes money from advertising. We have a modified experience for viewers using ad blockers

Wikia is not accessible if you've made further modifications. Remove the custom ad blocker rule(s) and the page will load as expected.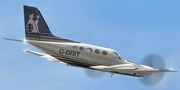 Britannia Air (ICAO: BYA / IATA: BY / Call-sign: BRITANNIA) is a commercial virtual air company in Second Life®. The airline was founded by Orion in 2016 and travels to destinations in and around the Blake Sea, Nautilus and Satori.
Overview
Britannia Air was established in 2016 and is a small, commercial airline. It has facilities at Aurora Seaplane Base, Delchdork Regional Airport and Amusement Park, Luxor International airport and St Martin Airfield.
About Us
Although we are a small airline, our crew is experienced, friendly and relaxed. Champagne is always available, for you to enjoy during your flight with us.
Destinations
Airports in Second Life® served by Britannia Air:
BLAKE SEA
NAUTILUS
SATORI
Fleet
As of September 2016, Britannia Air operates the following aircraft: