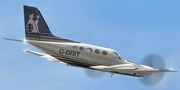 Britannia Air (ICAO: BYA / IATA: BY / Call-sign: BRITANNIA) is a commercial virtual air company in Second Life®. The airline was founded by Hatsya in 2016 and travels to destinations in and around the Blake Sea and Nautilus.
Overview
Britannia Air was established in 2016 and is a small, commercial airline. It has facilities at Aurora Seaplane Base, Second Norway Lufthavn and Tuarua Fiji International Airport.
About Us
Although we are a small airline, we are big on service. Our crew is experienced, friendly and relaxed. Our Cessna 421 (EG Aircraft) Champagne Executive Service, flies between Tuarua Fiji International Airport and Aurora Seaplane Base. We are a dog friendly airline and you and your little loved one, will be warmly welcomed in the passenger cabins of all of our aircraft. Our flight crew are now wearing, our new, striking, "Designer Uniforms". We are excited to announce that, we have taken delivery of two new British Aerospace 146 (McKeenan Aviation) aircraft, with livery by Josh Noonan and have introduced a jet service, between our base at Tuarua Fiji International Airport and Second Norway Lufthavn.
Destinations
Airports in Second Life® served by Britannia Air:
BLAKE SEA
NAUTILUS
Fleet
As of February 2017, Britannia Air operates the following aircraft:
Gallery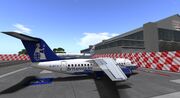 Ad blocker interference detected!
Wikia is a free-to-use site that makes money from advertising. We have a modified experience for viewers using ad blockers

Wikia is not accessible if you've made further modifications. Remove the custom ad blocker rule(s) and the page will load as expected.