CPM Airfield at Carolina. It´s a single runway at 22 meter dirt runway, now includes a 120 meter paved runway. It´s open to the public. This is a work in progress and will add more and some pics soon. Near is other area for landing and for rez planes; this parcel not has runway marked. 
 Airport: SLCP - Carolina National Airport
Region: Carolina @ (1007, 1018)
Manager: Lale Delvalle
Wiki: http://sl-aviation.wikia.com/wiki/CPM_Airfield
Approaches:
 * RW09 @ [1133,1066] (25.8736,239.999,22.45) hdg:90 fixes:[384 - 192 - 30]
 * RW01 @ [1007,1018] (160.106,53.8068,21.77) hdg:8 fixes:[384 - 192 - 30]
 * RW33 @ [1007,1018] (119.893,10.5492,21.2792) hdg:329 fixes:[384 - 192 - 30]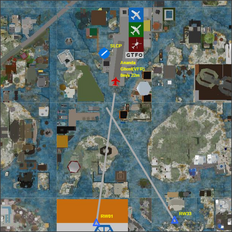 Ad blocker interference detected!
Wikia is a free-to-use site that makes money from advertising. We have a modified experience for viewers using ad blockers

Wikia is not accessible if you've made further modifications. Remove the custom ad blocker rule(s) and the page will load as expected.