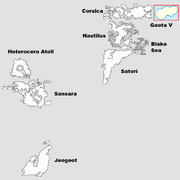 Actually part of an abandoned project to create several large islands in the northeastern most area of the continent map,
Gaeta
is now the largest of a series of incomplete micro-continents. Each of the continent's airports is located along its very expansive coast with no airports at its interior. Gaeta is connected to only one other continent,
Corsica
to the west.
Ad blocker interference detected!
Wikia is a free-to-use site that makes money from advertising. We have a modified experience for viewers using ad blockers

Wikia is not accessible if you've made further modifications. Remove the custom ad blocker rule(s) and the page will load as expected.