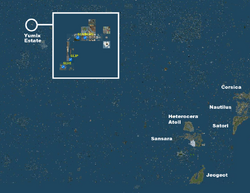 The Yumix Estate is a large chain of Japanese-speaking, aviation-centric regions, linked together into a privately-owned micro-continent. The landmass incorporated a total of twenty-three regions at its height in 2013 and has since been reduced to sixteen sims as of September 2015. Its topography is generally flat with rare hills, separated by water into large and small islands. Isolated mountains can be found in some places, but altitude is low. The Yumix Estate has changed considerably over its years of operation as new regions are incorporated and others lost.
Images
Pages in category "Yumix"
Ad blocker interference detected!
Wikia is a free-to-use site that makes money from advertising. We have a modified experience for viewers using ad blockers

Wikia is not accessible if you've made further modifications. Remove the custom ad blocker rule(s) and the page will load as expected.