This is a historic article about an airport which no longer exists or has been replaced.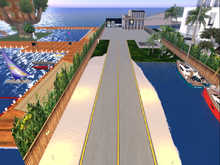 Fantazia Airstrip is a single runway airfield located on Thorkell sim right near Fantazia Viterbo.
Short runway advisory,rez enabled,vending area
Temporary parking for two smaller planes and two helicopters
Everyone welcome!
Contact persons: MrJules Sixpence and barbara09 resident
Ad blocker interference detected!
Wikia is a free-to-use site that makes money from advertising. We have a modified experience for viewers using ad blockers

Wikia is not accessible if you've made further modifications. Remove the custom ad blocker rule(s) and the page will load as expected.