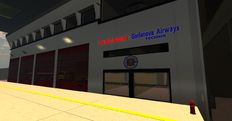 Fire Dep. Gorlanova (GA-ARFF)
Category: Airport fire dep.
Region: Gorlanova.
Continent: western Satori.
Background
Fire Dep. Gorlanova has your base in Gorlanova Airport (is located below the main plataform); the airport has too an First Aid room into the terminal.
Staff
The staff in this Fire station is:
Chief Fire Officer
Firefighters
Equipment
The equipment in the Fire station is:
Astaro TPF-2 Tanker
Astaro TPF-1
Astaro TPF-3 Ladder
The equipment in the First Aid room is:
waiting room
patient room
examination room
2 medicalized ambulances
Images
Ad blocker interference detected!
Wikia is a free-to-use site that makes money from advertising. We have a modified experience for viewers using ad blockers

Wikia is not accessible if you've made further modifications. Remove the custom ad blocker rule(s) and the page will load as expected.