Ginsberg Airfield is a public airport in the 'Ginsberg' region of Heterocera Atoll. It is in the north-central area of the continent. The airport has been active since February 22, 2016.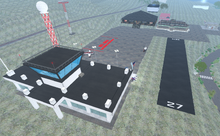 Landing Advisories
Edit
100 meter lit, asphalt runway (09/27)
Background
Edit
Ginsberg Airfield was built to provide an additional 'ground level' airport for residents and visitors to Heterocera Atoll. Conveniently located between the SLRR and the Route 2 highway, the terminal is right behind the SLRR Rez Zone in Burnott.
Airlines
Edit
Currently, there are no scheduled services operating to or from Hooktip Airfield, however charter flights may be available on request. Please contact airlines for more information.
Facilities and Services
Edit
Rez Zone
Terminal
Bar
Diner
Motel
Garage
Fuel
Ad blocker interference detected!
Wikia is a free-to-use site that makes money from advertising. We have a modified experience for viewers using ad blockers

Wikia is not accessible if you've made further modifications. Remove the custom ad blocker rule(s) and the page will load as expected.