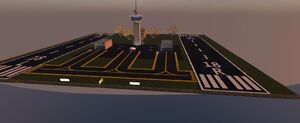 Johnson-Macleod Airfield is positioned on a sky platform at 526 meters altitude. Easiest approach is heading north for a long approach to runway 36, but it does have a lot of privacy parcels to cross. If you send us and IM and request it, we can send you approach on any runway from Norwegian sim in Blake Sea Corridor
J-M is the home of Black Sheep Commuter Air Service, and the Johnson-MacLeod School of Aviation. We have a full Service Bed and Breakfast which is also a full restaurant on the premises for use by visitors. IM Ginnafer Resident, or Jjaza Resident for reservations if you want a special table. If we are not here and you want to see the place then please come and look around and enjoy lunch in the restuarant. Do not enter occupied rooms please.
Celtic and Garlic Bed and Breakfast and Restaurant is a quick stroll from both runways across the foot bridge adjacent to runway 9-27. (There is a sign over bridge). We have two luxury rooms for those who want to spend the night, and as always, we do not charge for use, but there is a donation cash register in the restaurant.
We have DSA, Dani, and S&W fuel on site.
Feel free to stop by anytime but remember for full service attended meals or overnight accommodations reservations only. Dani, and DSA / S&W fuel is always available. Our goal is a relaxed atmosphere for people into aviation can come and learn and practice touch and goes as well as meet new friends.
Configuration
Edit
We are controlled live on part time basis. Runways are 9-27, and 36-18. Runway 18 is not suitable for landing due to the fact it is on the border with empty sim. Runway 36 is easy approach but passes over two sims that are crowded with parcels with privacy settings turned on. We have one helipad. Runway 9 is right traffic. Runway 27 is left traffic. All are 190 meter runways. Remember we are 526 meters in the sky, so come in about 600 until runway is in sight.
When controller is on duty you can use either 119.200 Blake Sea Control group, or Unicom 122.7 MHZ Group.
NOTAM: If you wish to approach on runway 36 be advised not to fly below 1000 meters until passing New England Sim. There is a small airfield, and sci fi sphere in the north end of that sim. Once past New England Sim you can set a 750 or 1000 FPM descent and monitor glide slope. Best 36 approach would be to stay north crossing Atlantic Crossing into Prides Crossing, then move East to Marthas Vineyard to intercept localizer. A new approach notecard is in the sign notecard givers onsite. Other Runways are fine as of this posting.
Ad blocker interference detected!
Wikia is a free-to-use site that makes money from advertising. We have a modified experience for viewers using ad blockers

Wikia is not accessible if you've made further modifications. Remove the custom ad blocker rule(s) and the page will load as expected.