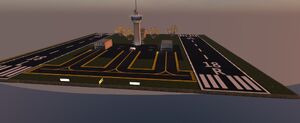 Johnson-Macleod Airfield is positioned on a sky platform at 526 meters altitude. Approach is heading north to runway 36L, but it does have a few privacy parcels to cross.
Purpose
J-M is primarily a crogo hub for GTFO all size planes We have a full service restaurant on the premises for use by visitors.
Gaelic and Garlic Restaurant is a quick stroll from both runways behind the control tower (There is a sign over pathway).
We have DSA, Dani, and S&W fuel on site.
Feel free to stop by anytime. Our goal is a relaxed atmosphere for people into aviation cargo, but all aviators are wlecome.
Configuration
Edit
We are controlled live on part time basis. Runways are 36-18 left and right. 36 L if for landing and 18L is for takeoff. Runway 18 is not suitable for landing due to the fact it is on the border with empty sim. Runway 36 is easy approach but passes over two sims that are crowded with parcels with privacy settings turned on. We have one helipad. Both are 190 meter runways. Remember we are 526 meters in the sky, so come in about 600 until runway is in sight.
When controller is on duty you can use either 119.200 Blake Sea Control group, or Unicom 122.7 MHZ Group.
NOTAM: Be advised that runway 09-27 has been removed. If you have ILS settings for approach on runway 36, it is still valid for 36L which is our approach runway.