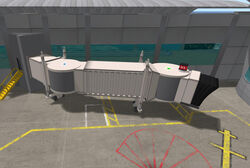 A jet bridge (also termed jetway, loading bridge, aerobridge / airbridge, air jetty, portal, passenger walkway or passenger boarding bridge) is an enclosed, movable connector which extends from an airport terminal gate to an airplane, allowing passengers to board and disembark without going outside. Depending on building design, sill heights, fueling positions and operational requirements, it may be fixed or movable, swinging radially or extending in length.
Ad blocker interference detected!
Wikia is a free-to-use site that makes money from advertising. We have a modified experience for viewers using ad blockers

Wikia is not accessible if you've made further modifications. Remove the custom ad blocker rule(s) and the page will load as expected.