Ad blocker interference detected!
Wikia is a free-to-use site that makes money from advertising. We have a modified experience for viewers using ad blockers

Wikia is not accessible if you've made further modifications. Remove the custom ad blocker rule(s) and the page will load as expected.

This is a historic article about an airport which no longer exists or has been replaced.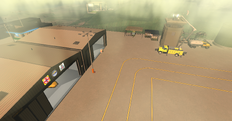 RAF Search & Rescue
Category: emergency station base.
Region: Avignon.
Continent: north east Satori.
Background
RAF Search & Rescue have their base within the Pacific Fleet Air station. The facility provides a few helipads for use in case of emergencies, as well as a military hospital (which is made available by owner for use in RP public emergency simulations). The military base has also a Fire Department.
Staff
The staff in this station is:
4 rescuers
1 medic
part-time staff
Equipment
RAF Search & Rescue's equipment found in this station consists of:
Hospital
reception
patient room
X-Ray room
Fire Department
Astaro TPF-4 Ambulance Priority
x2 HD Airport 6000 Aerial
Images