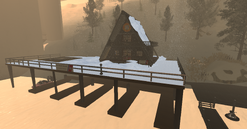 SLCG Station Kania (KAN) (formerly known as SLCG Substation Kania)
Category: emergency station base
Region: Kania.
Continent: Sansara.
Background
SLCG Station Kania is located within Smugglers Bluff Airport, features one main building, one helipad and docking area with direct access to the waters of Sansara's Ice Bay.
Staff
The staff in this station includes:
Equipment
The equipment of this station is:
1x Berdav Husky patrol craft
1x helipad
docking area
Images
Ad blocker interference detected!
Wikia is a free-to-use site that makes money from advertising. We have a modified experience for viewers using ad blockers

Wikia is not accessible if you've made further modifications. Remove the custom ad blocker rule(s) and the page will load as expected.