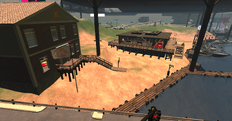 SLCG Substation Hotei (CGHT) (previously designated SLCG Substation Smugglers Cove)
Category: emergency station base.
Region: Hotei.
Continent: north Sansara.
Background
SLCG Substation Smugglers Cove was part of the now defunct Smugglers Cove Airport, had one helipad, docking area, and also hosted an SLCG Leadership Center and SLCG Medical Training Center.
When Smugglers Cove Airport was dismantled in 2015, the Coast Guard Substation was maintained, rebuilt and renamed SLGC Substation Hotei (CGHT).
Staff
The staff in this station is:
Equipment
The equipment in this station is:
S&W MLB-47 patrol boat
sea dock w/ Public Rez Zone
1x helipad
Images
Ad blocker interference detected!
Wikia is a free-to-use site that makes money from advertising. We have a modified experience for viewers using ad blockers

Wikia is not accessible if you've made further modifications. Remove the custom ad blocker rule(s) and the page will load as expected.