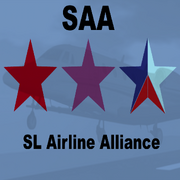 The SL Airline Alliance (SAA) promotes co-operation and co-share operations between airlines to improve the airline experience. No matter what it is we are all here to help. This Alliance will be joining Charities to better our communities. All Ownership remains with the original Airlines, this is just for friendly skies and communication and help between the Airlines.
The Group was started in 2014 by Rova (rovaaverrod), Devin Koba and Jacob Ronin as a way to bring airlines in sl closer together. Dragon air, Eagle Airways, and Harmaa Susia Airlines were the original 3 co-founders. Today it has grown into a larger group with 10 current airline members.
Current Airline Members of the group as of August 2016 include:
Ad blocker interference detected!
Wikia is a free-to-use site that makes money from advertising. We have a modified experience for viewers using ad blockers

Wikia is not accessible if you've made further modifications. Remove the custom ad blocker rule(s) and the page will load as expected.