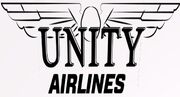 Unity Airlines is a non-commercial virtual airline in Second Life®. Based at Unity Airport, Unity is owned by Fey Twin and Gota Blackheart. It operates a diverse fleet aircraft serving Jeogeot and now we have new locations serving all of the continents in Second Life.
Overview
Destinations
Airports served by Unity Airlines:
Fleet
As of September 2015, the Unity Airlines fleet includes (but is not limited to) the following aircraft:
Ad blocker interference detected!
Wikia is a free-to-use site that makes money from advertising. We have a modified experience for viewers using ad blockers

Wikia is not accessible if you've made further modifications. Remove the custom ad blocker rule(s) and the page will load as expected.