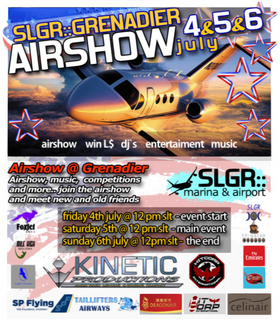 Grenadier Marina & Airport is hosting an airshow from the 4th to 6th July 2014. The event will feature an airshow, music, competitions and more! It starts on Friday 4th July at 12pm SLT, with the main event occurring at 12pm on Saturday. For more information please contact Toby Ovis.
Ad blocker interference detected!
Wikia is a free-to-use site that makes money from advertising. We have a modified experience for viewers using ad blockers

Wikia is not accessible if you've made further modifications. Remove the custom ad blocker rule(s) and the page will load as expected.