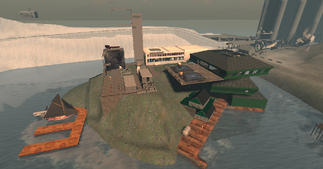 Background
VCG Recruit Training Center is located at Duckregion
Staff
The staff in this station is:
VADM Khukuri Masala
VADM Shar Bleac
CMDR Saraleah Sands
LTCMDR Jonsky Foxtrot
LTJG Victoria Petrolhead
Equipment
The equipment of this station is:
helicopter training area (x2 helipads)
diving training area (ramp down water, sunken vessel, hyperbaric chamber)
mini sub training (Explorer Submarine created by hoohaa Anaconda)
first aid training
training ground
firefighter training
boating training
weapons training
Images
Ad blocker interference detected!
Wikia is a free-to-use site that makes money from advertising. We have a modified experience for viewers using ad blockers

Wikia is not accessible if you've made further modifications. Remove the custom ad blocker rule(s) and the page will load as expected.