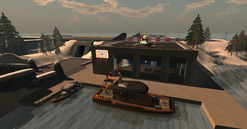 Virtual Coast Guard Vestnes Station
Category: VCG Headquarters and emergency station base.
Region: Vestnes.
Continent: north-east Blake Sea.
Background
Virtual Coast Guard Sletta Station was located at Second Norway Lufthavn. However, as of October 2017, Virtual Coast Guard had dismantled this station and relocated to the adjacent VCG Cape Kirk Station.
Staff
The staff in this station was:
Vice Admiral
Security officer
Equipment
The equipment of this station was:
Images
Ad blocker interference detected!
Wikia is a free-to-use site that makes money from advertising. We have a modified experience for viewers using ad blockers

Wikia is not accessible if you've made further modifications. Remove the custom ad blocker rule(s) and the page will load as expected.